Dr Inge Strauss – House Officer of the Month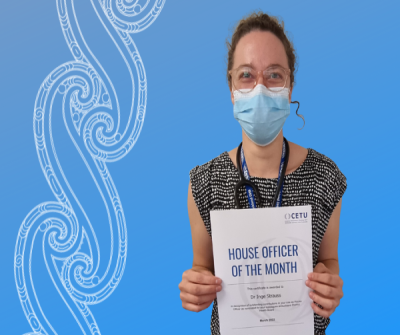 "Inge is an exceptional doctor. She ensures she includes all members of the health care team in planning patient care and shows a very high level of respect for all staff. She makes sure all her work is completed to a high standard to make sure that patient safety is maintained.
"She is such a help to the nurses and goes above and beyond completing tasks not often done by house officers – such as finishing a wound dressing, helping with medications and explaining procedures to patients and their family.
"Inge goes above and beyond when looking after her patients. She is exceptionally thorough during rounds and always makes sure the nurses are involved and informed and will always respect their opinion and escalates any concerns.
"She communicates extremely well with the patients to make sure they understand what is going on and is always happy to go and speak to patients or their family over any concerns.
"Inge is a delight to work with and makes a big positive difference on the ward, we feel very lucky to have her as a house officer."
Love your mahi, Dr Strauss.
← Back to the news