John Fa'ukafa awarded NZ Young Nurse of the Year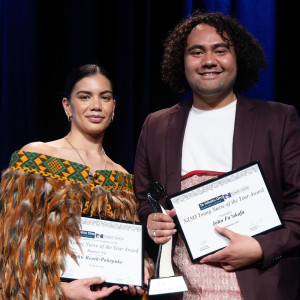 Congratulations to John Fa'ukafa – Young Nurse of the Year 2023.
29-year-old John is of Tongan whakapapa and a registered nurse at Auckland Sexual Health Service and Pohutukawa Clinic. He was presented with the award on 20 September at the New Zealand Nurses Organisation Toputanga Tapuhi Kaitiaki Aotearoa (NZNO) Annual General Meeting and Conference.
John always views the service from a patient perspective and is always finding ways to reduce the barriers to being seen.
John consistently offers help to every other member of the wider multidisciplinary team. His generosity of spirit improves the working lives of everyone around him; doctors, receptionists, schedulers, nurses, cleaners, psychologists and baristas.
John is also admired for his courage and resilience in breaking through the stigma of being an openly gay Tongan male nurse. He uses his experience to support patients wholeheartedly regardless of their age, ethnicity, sexuality, or gender identity.
He is also the first Pasifika male nurse in New Zealand to provide after-hours forensic nursing care as part of the Pohutukawa Clinic, Adult Sexual Assault Service.
Ever humble, John was caught off guard at being nominated let alone taking home the award. "It was a definite surprise that I was being nominated and even more surprising that I won the award," he said.
John was up against some tough competition, with another of our amazing kaimahi, Tiahn Beuth-Pukepuke, Registered Nurse, Adult Sexual Health Services, awarded runner-up.
A huge ka pai to both John and Tiahn for all your epic mahi.
← Back to the news