Matariki Values Awards 2022
This Matariki we took time to acknowledge our kaimahi at our Matariki Values Awards.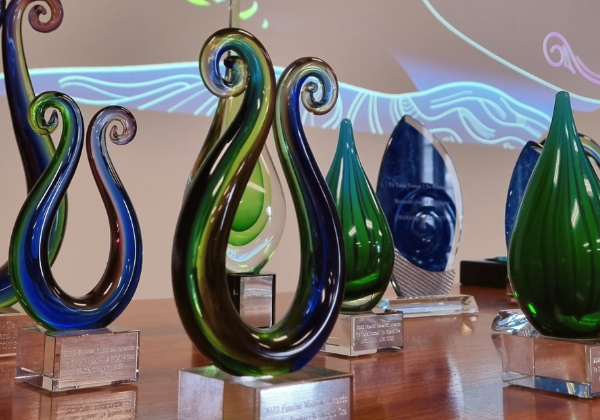 Kaimahi were recognised for their contribution to improving Māori health outcomes across four categories, Haere Mai, Manaaki, Tūhono and Angamua. These categories represent our values and are at the heart of what we do.
Haere Mai Award
Eddie Haines Ward Clerk, General Surgery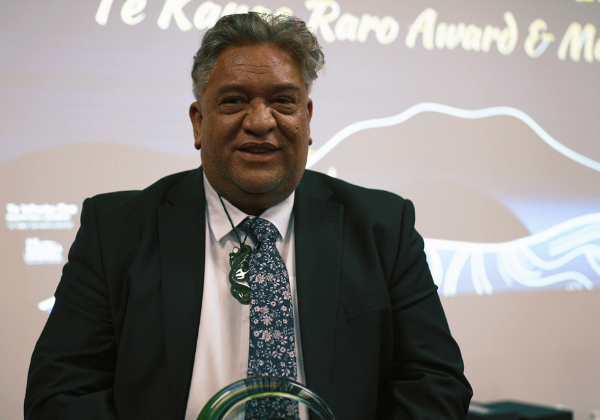 The Haere Mai Award recognises those who welcome everyone to our sites. For the past 15 years, Eddie has embodied the value of Haere Mai.
He is welcoming to all those entering the ward, is attentive, kind and patient, and his reo Māori has helped Māori patients and their whānau enormously.
People trust Eddie, and his presence helps their well-being. He helps the ward team understand that there are multiple ways to improve patient experiences.
Eddie is patient with all the questions he is asked and has helped his culturally diverse team in Ward 61 understand the importance of celebrating Matariki by making and sharing his own Matariki video.
He is the heart of Ward 61 and his team feel privileged to work alongside him.
Manaaki Award
Te Puaruruhau Service
The Manaaki Award recognises those who respect people's needs and differences through their actions.
Te Puaruruhau is Starship's child protection service and sits within Puawaitahi, a multi-agency centre working to protect the health and wellbeing of our tamariki, rangatahi and whānau affected by abuse and neglect. Te Puaruruhau is committed to providing services that are responsive to Māori rights, needs and interests, with a common aim of enhancing recovery and care.
Te Puaruruhau offers a 24-hour urgent medical service for acute abuse cases and carries out nursing and social work assessments for alleged physical or sexual abuse or neglect.
The team employed a Kaiāwhina Whānau Support worker and Pou Tikanga. These roles support the use of karakia, himene and waiata in hui and in appointments. They welcome onsite Māori whānau, offer āwhi throughout their visit, and support the implementation of tikanga and te reo best practice within the team.
Angamua Award
Gina Berghan, Nurse Specialist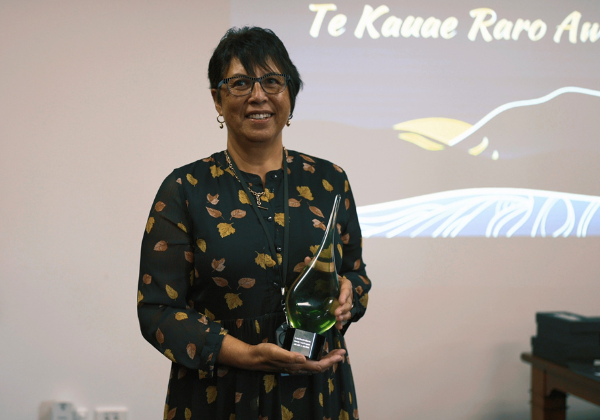 The Angamua Award recognises those who aim high in their work, so they can offer the community the best possible health outcomes.
Gina demonstrates this value by always working to make the diabetes services more responsive and better for those in our care.
Gina has implemented karakia and waiata within meetings and supports her colleagues where needed. She developed a recruitment pamphlet to promote the service to Māori and Pasifika. Gina co-founded the FaleWha Māori and Pasifika advisory and support group within the diabetes service, which provides support for kaimahi and advice on projects and research.
Gina helps her colleagues increase their knowledge of mātauranga Māori. The team collaborates with services to develop the capability of the workforce, including showcasing a different way of working with staff and whānau in the children's emergency department to improve whānau experience.
Her commitment and work ethic to improve the service for Māori is incredible; she is the team's Taonga.
Tūhono Award
Starship Māori Health Team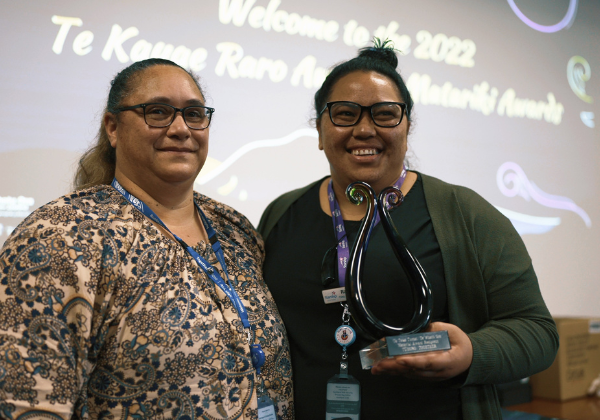 The Tūhono Award recognises those who share, support and work as a team with colleagues, patients and whānau to achieve better Māori health outcomes, as demonstrated by the Starship Māori Health Team in some of the mahi currently underway.
They collaborate with services to develop the capability of the workforce, including showcasing a different way of working with staff and whānau in Children's ED to improve whānau experience.
The team nurtures internal relationships to support teams who are actively working towards eliminating inequities and provides āwhi and mentoring opportunities across Māori and leadership networks to tautoko success and learning opportunities.
External relationships with key stakeholders are also nurtured, such as mana whenua and the Kiingitanga to help support the development of a Tiriti based child health agenda that aims to eliminate inequities.
They also engage with whānau and elevate their voice, including adding whānau feedback into the design of the PICU redevelopment.
Last modified:
← Back to the news