Health reinforcements a welcome sight in Tairāwhiti
"When I saw the damage from Cyclone Gabrielle, all I could think was how I could help out," says Adele Ferguson, Clinical Nurse Specialist at Whakatane Hospital.
Adele was one of more than 20 Te Whatu Ora and Te Aka Whai Ora staff deployed to Tairāwhiti since Cyclone Gabrielle. Nurses, doctors, health protection officers, recovery managers and medical officers of health all volunteered.
"After the Whakaari tragedy we got so much help from other regions and it made such a difference for us in the hospital," says Adele. "So, when the call for volunteers came out, I just wanted to give back."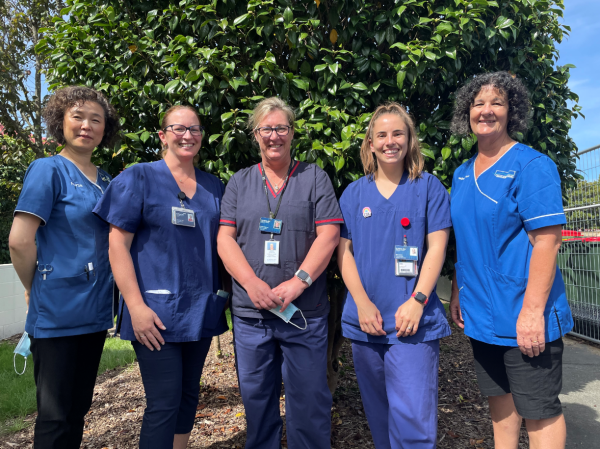 Left to right: Linda Xie, Auckland City Hospital, Sally Blair-Duff, Palmerston North Hospital, Adele Ferguson, Whakatane Hospital, Ellie Sanson, Auckland City Hospital and Nicola Bleasel, Taranaki Base Hospital.
Emergency Department nurses Nicola Bleasel, Taranaki Base Hospital and Ellie Sanson, Auckland City Hospital also stepped up to join the Gisborne Hospital team. They were impressed by the way the team at Gisborne hospital came together, even though many of them had been personally impacted by the flooding.
Charge nurse Sally Blair-Duff from Palmerston North has whānau in Hawke's Bay but wanted to go where she was most needed. "This has been a great opportunity to not only help on the ground, but also connect with other colleagues and get experience in another hospital," she says.
Linda Xie, Registered Nurse, Auckland City Hospital, didn't think twice about volunteering. "I wanted to set a positive example to my family," says Linda. "It's important to help others in need."
Lynsey Bartlett, Interim Lead Hospital and Specialist Services in Tairāwhiti said the assistance from colleagues across the country came at just the right time.
"Our staff have once again been amazing, working long hours, picking up extra shifts and being incredibly flexible," she said. "The volunteers have lifted the wairua of our teams, and in many areas, have allowed for a much-needed rest after the initial response."
"The support from across the country has been much appreciated. It's been great to see the different parts of this new organisation come together when we needed it most."
Last modified:
← Back to the news