Haere mai Hospital Supporters
This winter, we've found that having extra hands on our wards to carry out some of the non-clinical tasks lets our nurses, midwives and health care assistants spend more time doing what they do best, caring for our patients.
Enter our hospital supporters! These new roles help to make sure our wards are safe, clean, and tidy and our clinical areas are well stocked. They perform general admin tasks like reporting and escalating any broken, damaged or lost equipment and furniture.
Some Hospital Supporters welcome people at our main entrances and help direct patients and whānau to where they need to go as well as doing testing or screening duties if we get further COVID-19 or flu surges.
We spoke to hospital supporters Kevin Kasipale and Marga Ranara to see how they are getting on in their new jobs.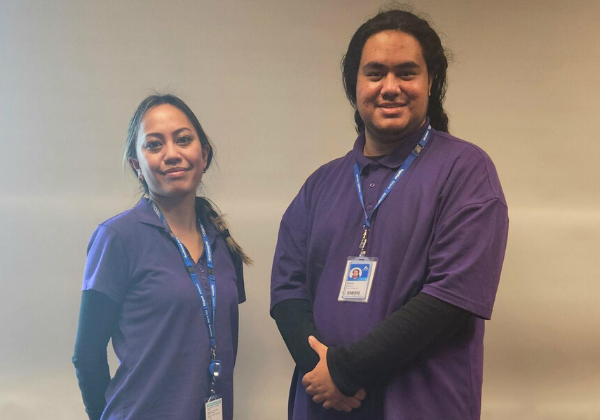 Originally from Dunedin, Marga made the big move to Tāmaki Makaurau to study neuroscience and psychology. The role of Hospital Supporter compliments her studies, and she finds it very rewarding.
"It's placed me ahead of my peers by having the experience of working in a hospital. It's opened my eyes to what it's really like working in a hospital environment and you learn from those coming in and out," she says. "Everything operates really smoothly here! It makes my heart feel so warm when clinical staff come up to me saying thanks and telling me I've made their job so much easier."
Kevin enjoys the communication aspect of the job. Meeting a diverse range of people, Kevin greets everyone he sees coming into hospital and is an expert in making people feel comfortable. He makes it a priority to make people feel at ease at what can be a stressful time.
"For the first week I was a bit nervous, but I've learned so much so far and got so much support throughout. There's a bit of a learning curve," he says. "But this is such a great first role for someone wanting to work in a hospital and help people."
Our hospital supporters make a huge difference to patients, whānau, the community and our kaimahi. It's a chance to gain valuable experience in healthcare, with opportunities for further education and training. Find out more at careers.adhb.govt.nz/()
Last modified:
← Back to the news