Allan Johns receives Public Service Commissioner's Commendation for Excellence
Allan Johns, Director of Facilities and Development was recently awarded a Public Service Commissioner's Commendation for Excellence at the Te Tohu Amorangi a Te Kawa Mataaho Awards.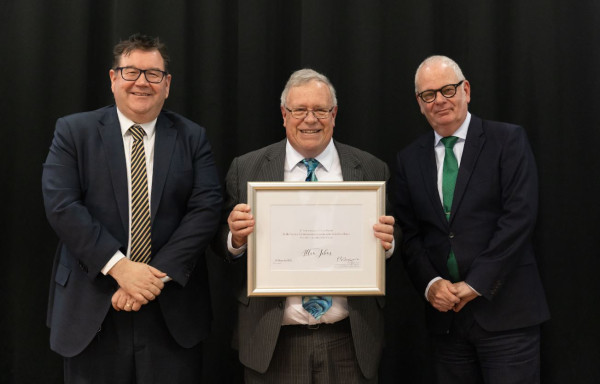 Deputy Prime Minister Hon Grant Robertson, Allan Johns and Public Service Commissioner Peter Hughes.
Throughout his career, Allan has been committed to delivering better health outcomes for New Zealanders. As a leader, researcher, and co-founder of the New Zealand Health Design Council, his focus has been on community-based health approaches.
Allan has built a legacy of purpose-designed health facilities. He possesses a strong moral code of fairness, and he always advocates for equitable opportunities for all. His work has had local, regional, and international impact. Allan opens doors for people from all walks of life. With his quiet humility, integrity, and empowerment of others, he is a fitting recipient of this commendation.
Congratulations Allan!
← Back to the news