Accessibility: Five Minutes with Kayla
Kayla Seaton, Te Puaruruhau Nurse Specialist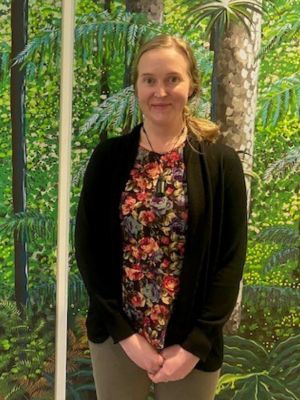 Kayla, tell us about yourself
I am a 30-year-old daughter, granddaughter, niece, sister and friend. I have worked as a Nurse Specialist for Te Puaruruhau for nearly two years now. I have always been passionate about advocacy for vulnerable tamariki, so working in a child protection team was the perfect fit.
What do you enjoy most about what you do?
My work is meaningful and fulfilling. I love contributing to creative, holistic care for children and their whānau.
What does having an accessible workplace mean to you?
An accessible workplace to me, is a space both physically and culturally adapted to allow me and assist me to continue my life's best work.
How does having a disability add value to your mahi?
I have lived experience of physical inabilities, and of navigating a world and health system that is predominantly set up by (and tailored for) fully-abled people. It gives me a deeper empathy for whānau receiving and processing a disability diagnosis, and working through the aftermath of that.
What's a common myth about disability that needs to be busted?
That we have a lower quality of life, and that we want your sympathy! We are not amazing because we continue despite our limitations, we continue despite our limitations because we have to.
← Back to the news