Accessibility: Five Minutes with Ei
Ei Murakami, Business Intelligence Analyst, Data & Intelligence – Quality, Safety and Risk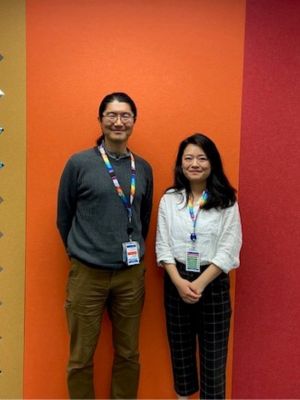 Ei, tell us about yourself
I joined the organisation as functional application support when the current Quality, Safety and Risk Service was just formed. It was my first permanent job in Aotearoa New Zealand after I worked for a healthcare information systems vendor in Japan. Before coming here, I often worked with hospital staff in various roles and various hospitals but it was exciting that I could be hospital staff myself.
What do you enjoy most about what you do?
Te Toka Tumai is one of the largest hospital organisations in the world and its commitment to utilising data and intelligence in improving the quality and safety of care and customer satisfaction and equity is just amazing and world-class. How we took up the challenges of Covid-19 is a great example. Why would I not feel privileged to be a business intelligence analyst here?
What does having an accessible workplace mean to you?
Flexibility in time and space. As Keri Opai who created Te Reo Hāpai – The Language of Enrichment, (The Māori mental health glossary), wisely stated: The te Reo word for autism is Takiwātanga 'the state of having your own time and space.'
From my own experience, autistic people require time for reflection and contemplation often and sometimes take an unusually long time. It is like you see in your computer – the computer seems to stop but the CPU (its control centre) is running at full power and full speed. If it is actually at work, in a productive process, it comes back and gives you great results.
How does having a disability add value to your mahi?
Hypothesis, experiment and analysis process which is vital in business intelligence work is what (some) autistic people love to do. In particular, I can bring unique ideas in hypothesis, tolerate cognitive endurance in experiments and exercise math and logic capabilities in analysis, as a result of different neural network connections.
What's a common myth about disability that needs to be busted?
Please do not stereotype us! I am not quite typical as an autistic person. Somehow I am keen to understand humans who are autistic, neurodivergent or neurotypical. It is really lucky for me that I can turn my autistic traits into my strength. Not many autistic people are so lucky. As the previous example with a computer running full throttle shows, we can be extreme where brain activities are concerned and more often than not it puzzles you who the neurotypical!
Haiyao* how does Ei's unique perspective strengthen your team?
Ei's unique perspective has been an incredible asset to our team. His ability to think distinctively, approach problems from unparalleled angles, and see patterns and solutions that others might miss has brought a fresh and innovative dynamic to our group. Ei's attention to detail and strong analytical skills have made his work the pillar of our team, setting a high standard for our work. Ei's presence has truly enriched our team's problem-solving abilities and creativity.
Can you describe a challenge that you've solved together to make mahi more accessible for Ei?
One of the challenges we've successfully addressed together is fostering openness about neurodiversity and raising awareness within the team, and the wider organisation. We recognised that creating an inclusive environment where neurodiversity is embraced requires a collective effort. We organised presentations to educate our team members about neurodiversity and its importance in our workplace. Ei played a pivotal role in these sessions by sharing his personal experiences and insights, which had a great impact on our team's understanding.
What message would you have for other people managers about your experience with an employee with a disability?
My message is to embrace diversity, including employees with disabilities, as an opportunity rather than a challenge. Be proactive in creating an inclusive and supportive work environment. Don't worry about asking questions as we are not expected to be experts on every aspect of disability, so it is important to listen, be open to learning, and don't hesitate to seek guidance or resources when needed. For example, the Accessibility Hub on our intranet has a lot of great resources for people managers. I believe a diverse team can bring fresh perspectives and creative solutions to the table, ultimately benefiting the organisation.
Why is it important to talk about accessibility in the workplace?
Starting discussions on accessibility holds great significance, particularly in our healthcare environment. It revolves around our commitment to promoting inclusivity and championing equal opportunities for every team member, bringing the added advantage of diverse perspectives that can benefit our patients. Engaging in dialogues about accessibility raises collective awareness and motivates the organisation to actively seek out and implement solutions that benefit the entire workforce. This will help foster a culture built on empathy and understanding and amplify our appeal to a broader range of talented individuals.
How have we supported your journey with Ei?
Te Toka Tumai's Disability Strategy Implementation Plan sets up a good framework for reference for me. The Accessibility Network has actively encouraged and facilitated open and honest conversations between Ei and the team, it has provided us with resources on neurodiversity, enabling us to gain a deeper understanding of Ei's unique strengths and challenges. By fostering a workplace culture that genuinely values diversity and inclusion, we've created a community where I can seek assistance and guidance.
*Haiyao Huang, Data & Intelligence Manager, Quality, Safety and Risk.
← Back to the news