Dr Shelby Haarhof – House Officer of the Month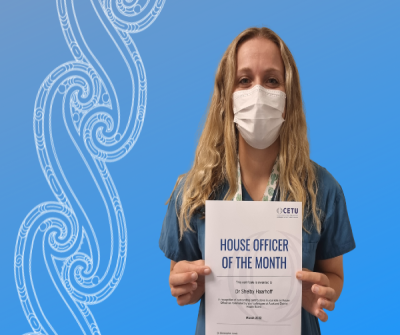 "Shelby is an excellent clinician who embodies whānau-centred care. She is considerate, has lovely communication skills and has really made herself part of the Children's Emergency Department (CED) multidisciplinary team.
"Shelby provides consistent and genuine care. She approaches each child and their whānau with compassion and interest. When assessing an adolescent girl with several months of abdominal pain, she ensured physical, psychological and whānau aspects were fully assessed. She recognised the significant impact that psychological factors could play in such a presentation while ensuring comprehensive physical assessment and appropriate investigations were completed. She presented the case to her senior colleague using a detailed and structured approach while also relaying potential psychological areas which could be contributing to the presentation.
"Shelby is an outstanding house officer who will do well in any area she chooses to specialise in and would be a welcomed asset to the area of paediatrics."
Love your mahi, Dr Haarhof.
Last modified:
← Back to the news