Our Chaplaincy Services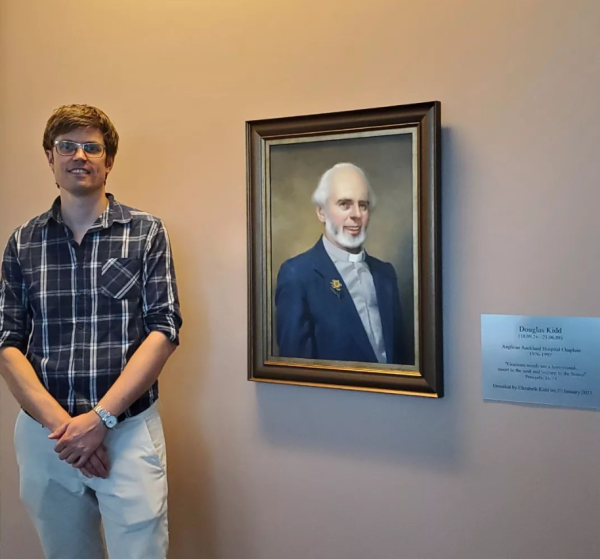 Artist Mark Anstis next to his portrait of his great uncle Reverend Kidd.
Recently, we unveiled this portrait of Reverend Douglas Kidd outside the chapel at Auckland City Hospital. This special gesture was an acknowledgment of the part Reverend Kidd played in bringing about the chapel, and his role in the development of hospital chaplaincy in Tāmaki Makaurau and Aotearoa.
"Before he passed away he spent many years [at Auckland Hospital] providing chaplaincy services to countless people," says Mark. "It's pretty neat they have chosen to acknowledge his contribution this way."
So what are Chaplaincy services?
Chaplains are trained professionals. They are available for pastoral care and spiritual support to all in the hospital, patients, family, whānau and staff, providing 24/7 services.
Chaplains respect a person's individual beliefs and will support people of any faith, or of no faith. They strive to be culturally sensitive and affirm the culture of each person. Our chaplains visit the wards daily and try to see as many people as possible.​​
They receive referrals from hospital staff, family, and the community, and patients are also able to request a visit from a chaplain by asking staff.
The hospital chapel and Sir John Logan Campbell Quiet Room are situated on Level 6 at Auckland City Hospital and is open seven days a week, 24 hours a day. The chapel is used for worship, reflection, prayer and special services as required.
To be put in touch with a chaplain, call 09 367 0000 and ask the operator to connect you with an individual chaplain or the chaplain on call.
Last modified:
← Back to the news