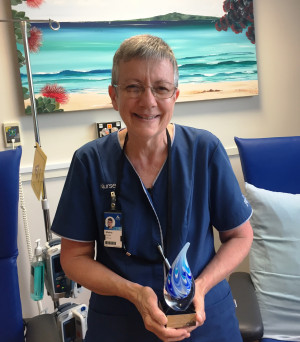 Marina was nominated by a group of registrars who said:
There's simply no doubt that everybody in the department regards Marina with the utmost respect for what she adds to our department. There are several moments during the week that would slide into catastrophe without her wizened guidance, and tempered professionalism. 
Marina is never flustered and full of patience. She is always friendly, and always has a smile, a warm greeting and reassurance for patients who are often nervous as they navigate their cancer journey. This warmth extends to colleagues.
Marina is an extremely hardworking, dedicated member of the team. She consistently goes above and beyond for her patients and for other staff members. Her empathy and competent approach is greatly appreciated. Nothing is too much trouble for Marina! 
Above all, she takes the time to remember each of the patients and add a real human touch to our service.
← Back to the gallery